Bernard Duerksen - Piano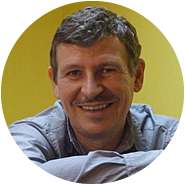 Mr. Duerksen's training included studies with Hilda Reimer, Peter Katin, Jane Coop, Robin Wood, John Paul Bracey and composers Peter-Paul Koprowski and Gerhard Wuensch. He is experienced in solo, chamber and concerto performances. In 1991 he was honoured to work with Jean Coulthard in preparation for the world premiere of Image Terrestre. His six-year collaboration with baritone Glen Harder culminated with an invitation to perform Schubert's Die Winterreise at the 1993 International Schubert Conference and Festival at the University of Victoria. In 2001 he co-founded, directed and performed in "Simply Piano Recitals", a series of eight piano recitals in Vancouver. He performs regularly in trios, quartets and quintets with members of the VSO. He has made recordings for CBC radio and is also an accomplished organist.
Bernard Duerksen is a graduate of UBC with a MMusic degree and is on faculty at a number of music schools including the VSO School of Music. He has been actively teaching and adjudicating for 31 years. In 2013 his student Ben Su placed 1st in the New York International Artists Association Competition (age 15 -17 category) and 1st in the American Protégé Competition and performed in Carnegie Hall in February and March. In 2013 Mr Duerksen was the hand double for John Lithgow playing Bach in the movie Rise of the Plant of the Apes.
Bernard Turgeon - Vocal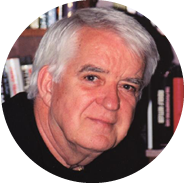 Bernard Turgeon has been identified as one of Canada's "true music legends "by Opera Canada. As a baritone, he has performed throughout North America, Europe and the former USSR. Bernard is also recognized internationally as an inspiring teacher of considerable scope, having inaugurated programs at the Banff Centre, the Universities of Alberta, Victoria and McGill. Bernard is also a Master Practitioner in Health, Well-being in Neuro Linguistic Programming from NPLU, USC Santa Cruz. To his extensive performing and educational background, Bernard adds his personal experience with prostrate cancer. Over the decade, Bernard has focused his new found skills of empowerment, working with artists and those who have been living with cancer.
Ernest Kassian - Bowed Strings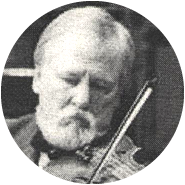 Ernest Kassian was born and educated in Edmonton where he earned a Master of Music degree in Viola Performance (University of Alberta). Kassian's teachers included Ranald Shean, Thomas Rolson (violin) and Michael Bowie, Mary Ingham-Zinman, Steve Kondaks, Loraand Feneves and Gerald Stanich (viola). Kassian is well known as a teacher, founder and conductor of string and orchestral programs in Alberta and Saskatchewan including the first Suzuki programs at the University of Alberta, University of Regina and the University of Saskatchewan. Kassian played in both violin sections and the viola section of the Edmonton Symphony Orchestra and was the principal violist of the National Youth Orchestra, Saskatoon Symphony and Regina Symphony.
Kassian has adjudicated major music festivals from B.C. to Ontario. He has traveled extensively pursuing post-graduate and doctoral studies in viola and conducting in B.C,. Ukraine, Czech Republic and London, England. Many travels took place during four sabbatical leaves from the University of Regina where he taught as Associate Professor for thirty-three years and where he founded and conducted several musical organizations including the South Saskatchewan Youth Orchestra, Summer Stage Inc., the Regina Multicultural Orchestra and the Regina Light Opera Society. Kassian has conducted orchestras throughout Canada, Europe and the United States and has appeared as viola soloist on CBC radio and television as well as with the Regina Symphony.
Kassian moved to Courtenay,. B.C. seven years ago where he now teaches violin and viola, plays with the Vancouver Island Symphony Orchestra, and freelances as chamber musician and conductor. Many of Kassian's students now play in most major Canadian professional orchestras and teach at prestigious musical institutions in Canada and the United States. Recently Kassian received the Canadian Violia Society's Lifetime Achievement Award for his many contributions in the areas of performance, teaching and service. Now in semi-retirement, Kassian enjoys traveling, playing a variety of sports including slo-pitch baseball (as well as umpiring), curling, bowling (lawn and five pin), motorcycling, scuba diving, kayaking, downhill skiing and exploring the many treasures found in the beautiful Comox Valley and beyond.
Don Hlus - Plucked Strings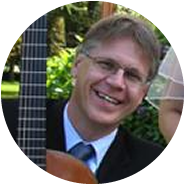 Don Hlus (B.Mus., M.A., Classical & Acoustic Guitar) is the Chair of the Music Department at Kwantlen Polytechnic University, as well as the Director of Guitar & Strings. He is also founder, coordinator and artistic director of the Fraser Valley Acoustic Guitar Festival, now in its eighteenth year. Don was also an external examiner for the UBC Music School guitar program from 1999-2012. In addition to his duties at Kwantlen, he teaches privately in Fort Langley, B.C., and is a member of the Canadian Music Festival Adjudicator's is a member of the Canadian Music Festival Adjudicators' Association and the British Columbia Registered Music Teachers' Association (South Fraser). Don holds a Bachelor of Music degree in classical guitar performance from the University of British Columbia, where he studied with Michael Strutt. He has also performed in master classes for Elliot Fisk, Mark Teicholtz, William Kanengiser, Scott Tenant, Benjamin Verdery, Paul O'Dette, and Stephen Robinson. Post-graduate studies were with the Canadian guitarist Harold Micay. He also studied jazz composition & arranging and guitar performance at Capilano College. In 2003 he completed his Masters Degree in Higher Education (UBC). His research examined how different educational beliefs and values affect the design, development, and implementation of curriculum. Don has been active in the Vancouver region as soloist and chamber musician. He frequently presents chamber music recitals with members of the Vancouver Symphony, the Vancouver Opera Orchestra and the CBC Radio Orchestra.
Peter Stigings - Percussion, Woodwinds & Brass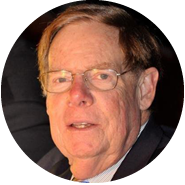 Peter Stigings B.Ed., M.Ed., has been involved in Music Education for 47 years. He has taught at elementary, secondary and post-secondary levels. He has served as an adjudicator, conductor, evaluator and workshop clinician throughout Canada, USA and Hong Kong. He has directed bands, choirs, orchestras and jazz ensembles and is known as a master teacher. His ensembles have toured extensively throughout Canada, as well as the USA, Europe, Hawaii and Japan. In 1999, he was awarded the prestigious Prime Minister's Award for Teaching Excellence. At the present time he is the Musical Director of "A Little Night Music Orchestra", a 70-piece community orchestra and Faculty Advisor for UBC & UVIC.
James Weekes - Electronic & Acoustic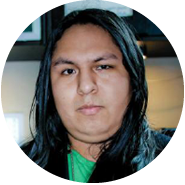 James Weekes has worked in the industry since he was 19. After graduating with honors as a recording engineer, he was immediately hired under the record label, Universal, as an assistant engineer, working with artists such as Faber Drive, Elise Estrada, Aly Michalka, Ray J, Lucas Gabriel, and others.
After meeting his now wife, Rose, the two of them started Hammer Records. Focusing on audio production, video production and photography they quickly established themselves as the top production team in Vancouver. They've covered touring acts such as Firewind, Dragonforce, and Children Of Bodom as well as, provided video production work for artists like Hedley, Scythia and Monster Truck.
Trained in classical and jazz piano, guitar, and bass, James also creates instrumental tracks for various artists around Vancouver, and worldwide via the Internet. Hammer Records' work has been featured in the Vancouver Sun, CBC Radio 1, and by world famous novelist Darren Shan, among others.
Tyler Carson - Folk Instrumental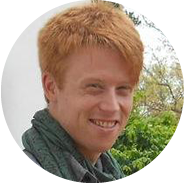 In making Living Music, Tyler has incorporated all his musical experiences and honed in on what he has found to be the most powerful musical elements. There is an energy that flows through all great music and all great performances and it is this energy that Tyler loves to explore – "I've never felt that music came from me. It always felt like it came through me." A key point came for Tyler when he traveled to India in February 2013. He was invited to offer a solo violin performance in a unique spiritual community called Auroville in south east India, which was recorded by Auroville radio and became his debut solo album "Living Violin". Bringing these experiences home with him, Tyler has transformed the way he plays. Through a heart centered approach he has found a truly unique way to create and share music.
Tyler is very much looking forward to exploring all aspects of music with the wonderful musicians on the Sunshine Coast! 
www.tylercarsonmusic.com
Jordan Allarie - Dance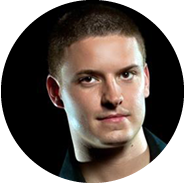 With over ten years experience in the live event industry, Jordan brings a unique skill set that combines stage and production management with the artistry and talent of a professional dancer and choreographer. Jordan began his professional performance career with Royal Caribbean Cruise Lines and subsequently appeared in hundreds of productions across North America and Asia. The most notable for PRP (Patrick Roberge Productions) include the Guangdong International Tourism Festival in China performing with country music trio The Higgins, and the Vancouver 2010 Official Mascot Launch where he brought to life Quatchi the Sasquatch.
As his experience with PRP gained momentum, Jordan's roles grew to include Performance Director for several high-level televised events including the Vancouver 2010 Paralympic Winter Games Opening and Closing Ceremonies, the 99th Grey Cup Halftime show, Rick Hansen Celebration 25 and the 122nd IOC Session.
Jordan has also established himself as an award-winning choreographer/director, working on such productions as CATS, Oliver, Grease, Cabaret, A Chorus Line, All Shook Up and In The Heights. Jordan is glad to be back adjudicating and sharing his passion for the art, as well as his acquired knowledge gained throughout his professional career with all of the competitors. He wishes them all the best of luck.